I am back from a sunny Milan Design Week and what a week it has been! Milan Design Week has evolved from a well-known furniture fair into a reflection of the current design, fashion and art world – encompassing the functional, experiential and existential elements. This year Salone del Mobile was the first large design exhibition to open its doors. After the 2020 gap it came back in a new format as "Supersalone" with architect Stefano Boeri as a curator.
There was much excitement about this new edition of the Salone del Mobile 2021. There were no traditional stands, no division between kitchens, bathrooms, furniture or lighting. It was more a collective exhibition than an expanse of stands. Now I am not sure this approached worked as well. Most of the stands were just displaying their products with very little creative approach. Stand after stand the furniture felt repetitive. In this context it was easy to spot several stands that actually went an extra mile to stand out against the crowd. I'd like to talk about some of them here.
PORRO, one of the most successful furniture design brands, has been exhibiting in Salone del Mobile since its very beginning. Porro installation "The Electric Box" by Piero Lissoni, Porro Art Director since 1989, was inspired by the charm of Figini's and Pollini's Casa Elettrica at the Monza Triennale in 1930. Porro's large transparent box was made with Storage system – the comprehensive and multi-faceted wardrobe system designed back in 2000 that has undergone a major aesthetic and functional evolution. An abstract sculpture at first glance, at a closer look turns into a multifunctional piece of architectural furniture thanks to a conceptual styling that hints at its possible uses – as a wardrobe, as a bookcase or maybe as a piece of kitchen furniture…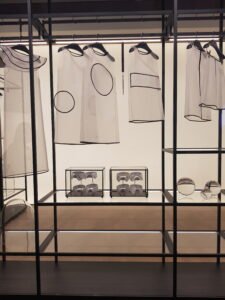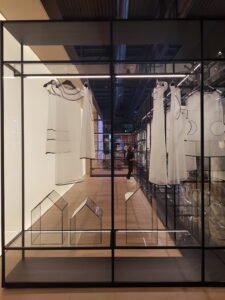 The Molteni&C installation directed by Ron Gilad was translated into the interior of an airplane, with animated windows that look out onto a sky where reality meets fantasy, and the Molteni&C collections were the key players. The Round armchairs, in leather and fabric, were arranged in a line at the windows to host passengers on their trip.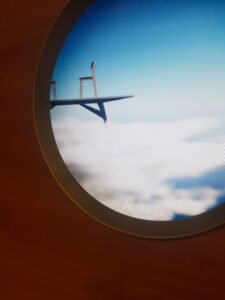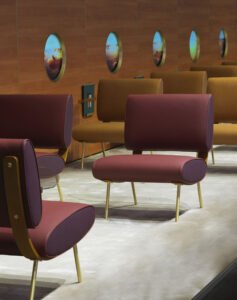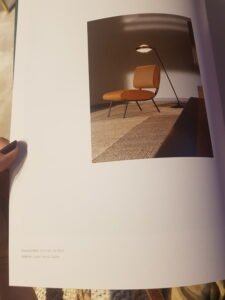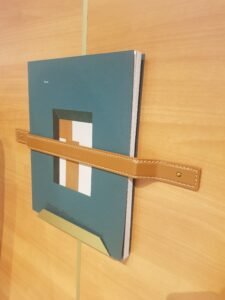 Molteni&C has a huge heritage and is a very innovative brand. To see how extensive their creativity is, I invite you to check out the short movie "White Noise" presented by  Molteni&C/Dada, directed by Beniamino Barrese and Mattia Colombo:
Other brands worth mentioning for their exquisite products and displays are: MOBI, MOGG and Alf DaFrè
In his new collection for MOBI, designer A. Rasit Karaaslan drew his inspiration from the rich historical and cultural heritage of Asia and reinterpreted design elements from the Antiquity, such as the arched niche and geometric tile patterns, within a modern aesthetic. Mobi's innovative and flawless craftsmanship allowed for his clever play with materials such as solid walnut, glass, bronze and suede fabric, producing forms and textures that incite wonder. At Supersalone Mobi's presentation of unique designs transported a rich cultural heritage into the contemporary design environment.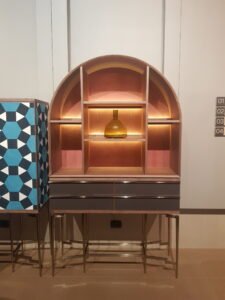 Another brand that really stood out was MOGG.
MOGG has soul and a well-defined identity, fresh, curious, full of surprise. It creates furniture for urban dreamers. Metrica is a metal bookcase available in titanium, brushed and gold finishes with transparent glass shelves available in bronze or green. The structure is simple; the rhythm is marked by the iron rods fixed at different intervals on an open but rigorous structure within which the books and objects inserted complete the form. Also I just love Gregorio Facco floor light Vis a Vis – can you spot it?!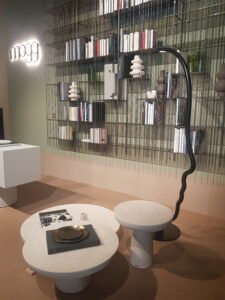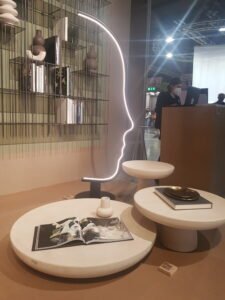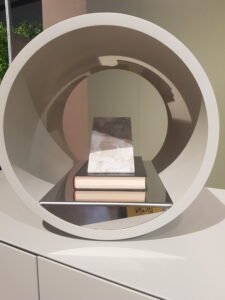 With sustainability at the forefront of this "Supersalone", all the display materials and components have been designed to be dismantled and reused. The trees from a green area that welcomed visitors at the East Gate of the fairgrounds will subsequently be relocated to Milan metropolitan area, thanks to the Forestami project.
The most recyclable product that caught my attention was YUME bed designed by Gordon Guillaumier for Alf DaFre. Yume is a product designed for the future: each part can be disassembled and materials separated for recycling.
The fabric upholstery has a velcro fastening, making it easy to remove;
Pre-lining has a zip, making it easy to detach from the foam padding;
Polyurethane padding is bonded rather than glued to the frame; different densities mean more comfort;
The headboard structure is made from recyclable, FSC certified plywood and multiflex;
The headboard is attached to the bed frame using partially recycled metal supports that can be disassembled;
FSC certified wooden feet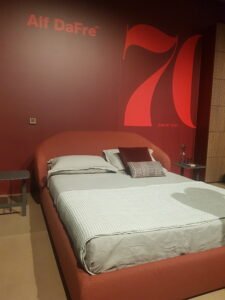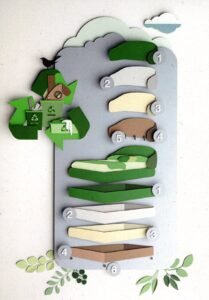 There were some nice lighting ideas, mainly coming from the "makers" directly. The Makers Show was the section of the Supersalone dedicated to self-producing designers from all over the world. Ateliers, studios, workshops and start-ups that combine design with experimentation, new production techniques and material research to self-produce their ideas.
In the first image below Prato Fiorito lights for Exteta blossom like flowers in the outdoor. The light and irregular stems are flexed to create extraordinary garden scenarios, growing both from the floor or from the ceiling. The second image shows The Helm, a belted sphere grown additively from syrupy ribbons of molten, recycled plastic.  All elements of the Helm have been developed and produced in Amsterdam by Kooij, an independent maker. In the third image you can see DOT, a minimal pendant by Lumina. It is an assembly of two parallel discs connected by a metal stem. The reflector has a super-matte white finish and is available in three different sizes: ø60cm, ø80cm, ø110cm. The smaller disc contains a ring of LEDs that bounce the light off the larger reflector disc. A custom made heat-pipe transfers the heat from the light engine into the heat sink in the reflector. This has made the extreme miniaturisation of the head possible. Showcasing an innovative approach towards lens technology and temperature transfer the lamp is suitable for use as a single pendant or a chandelier cluster. The last light is cordless Turn + light designed by Nao Tamura. Her talents cross-over cultures, languages, disciplines, concepts and styles with consistency of smart thinking always at the heart of her work. The lamp is waterproof and features an enclosure that prevents dust ingress. Turn+ is carved from a block of robust metals such as stainless steel, brass or black aluminum, which have been selected for their durability.